FILES: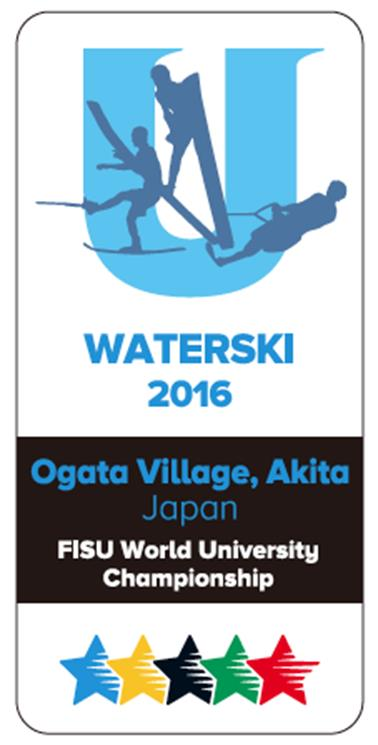 Bulletin 2
THE 2016 FISU WORLD UNIVERSITY WATERSKI CHAMPIONSHIP
Ogata Village, Akita Prefecture, Japan
September 8th - 11th, 2016
Japan will host the 2016 FISU World University Waterski Championship in Ogata Village, Akita Prefecture, Japan from September 8th to 11th, 2016.
1. Sanctioning Body
Federation Internationale du Sport Universitaire (FISU), Japan University Sports Board (JUSB), International Waterski and Wakeboard Federation (IWWF), Japan Water Ski Association (JWSA), Japan Collegiate Waterski Federation (JCWF)
2. Organizer
Ogata Village Government, Akita Prefecture Government, Japan Water Ski Association (JWSA), Japan Collegiate Waterski Federation (JCWF)
3. Venue
The Championship will take place at a lake in Ogata Village, Akita Prefecture, Japan, which is a world-class facility specifically built for Waterski. Ogata Village hosted the World Games in 2001, All Japan Nationals in 2003 and 2004, and has been hosting the Japan Collegiate Waterski Championships for 13 years, since 2002.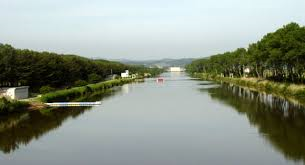 The average temperature of Ogata Village in September is 19.3°C, high 24.1°C and low 14.7°C.
Akita is located north west of Japan and it is just 1 hour flight away from Haneda airport in Tokyo. The Ogata Village is located 45 minutes away from the Akita airport.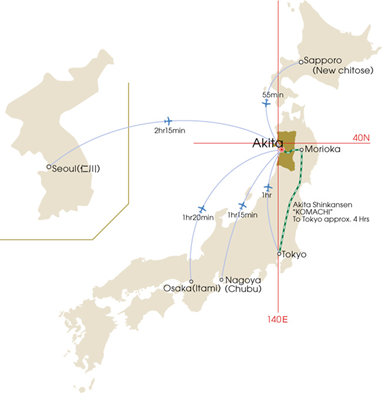 4. Airport
Akita airport is connected from Haneda (Tokyo), Centrair (Nagoya), and Kansai (Osaka). Please note: if you are making a connection through Tokyo to Akita, the organizer suggests to arrange your flight transitioning through HANEDA AIRPORT instead of Narita airport in Tokyo because there are no connecting flights from Narita to Akita and there will be 1-2 hour bus ride from Narita to Haneda airport
5. Airport Transfers
The organizing committee will arrange transportation for the OC officials and judges from the Akita Airport to the 1st official hotel (Hotel Sun Rural Ogata), and for the delegations, delegations' officials, supporters (family & friends) and other related members from the Akita Airport to the second official hotel, Route Inn Grantia in Akita City. The ski bags will be loaded on a track at the airport and be transferred to the ski site directly. Please make sure to separate your personal belongings from your ski bags before loaded on a track.
A member of the organizing committee will hold a signage with WUC 2016 logo and wait for your arrival at the exit from the baggage claim area.
The emergency contact number for airport transfers are as follows:
Mr. Toru Hiranouchi Cell#: +81-90-7321-1737
6. Official Accommodation
● The 1st Official Hotel for Tournament Officials
The first official hotel is Hotel Sun Rural Ogata (www.sunrural-ogata.com/) and it is located 10-minute drive away from the venue and 1-hour drive away from Akita Airport. This hotel will be reserved for the tournament officials only, and all delegations will be accommodated in the second official hotel.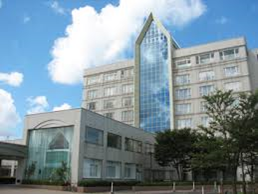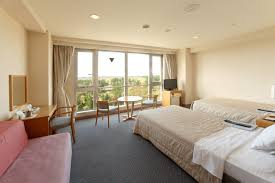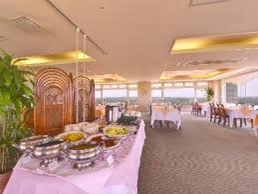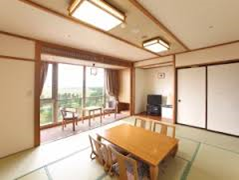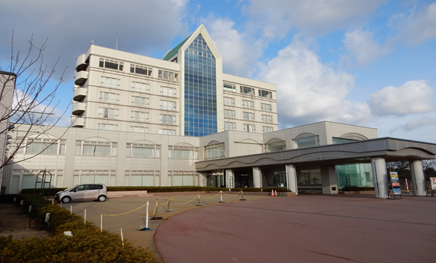 ● The 2nd Official Hotel for All Delegations
The second official hotel for all delegations will be Route-Inn Grantia Akita Spa Resort (http://www.hotel-grantia.co.jp/akita/). It is located right in the middle of Akita City. The hotel is just 30-minute away from Akita airport, and 1-hour away from the venue by our chartered bus. There are a couple of convenience stores that is just a walking distance from the hotel and most of your necessities for your stay should be found in the stores. There is a bank, a post office, and a hospital near the hotel, and you can find many local restaurants around the hotel as well.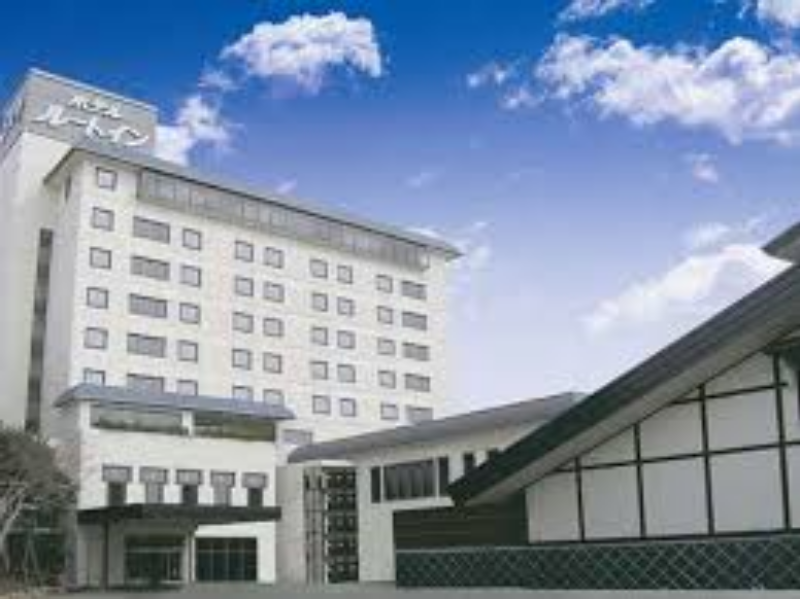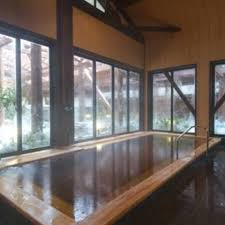 7. Meals
At the 1st official hotel (Hotel Sun Rural Ogata), breakfast and dinner will be provided at the hotel for tournament officials. At the 2nd official hotel (Route-Inn Grantia Akita), breakfast will be provided in a take-out box during the tournament and dinner will be served at the hotel restaurant except the days of welcome and farewell reception, which will be held in the 1st official hotel (Hotel Sun Rural Ogata). Lunch boxes will be provided at the ski site. If you have any members who have dietary restrictions, please let us know the details by Email to waterski2016akita@gmail.com.
8. Entry Fee
The following information related to entry fees an finance:
- The tournament daily fee for this event is 70 EUR/day/person covering local transportation, accommodation, meals and all other official functions.
- The period that the entry fee covers is only between September 5th through 12th. If you are to stay before or after the period, all costs on transportation, accommodation, meals and any other things outside of the period will be on your own expense at the regular rate (the payment should be made to the hotel directly).
- A participation fee of 20 EUR per person is due to FISU and the invoice will be sent to you separately.
- An additional fee of 40 EUR/athlete (one-time fee) will be charged to cover team practice times and fuel. Only one payment will be accepted per country.
- The 25% deposit of the total tournament fee (tournament daily fee 70 EUR x the number of nights that you will stay), should be made as soon as possible in order to avoid your entry cancelation or penalty fee.
- The balance plus the 40EU/Athlete Practice Fee should be paid upon arrival before the event.
- The method of 25% deposit payment should be by wire transfer.
- The balance can be paid by cash or credit card during the accreditation process at the hotel. The bank information for the wire transfer is written below:
The Bank Information for the wire transfer is written below:
Account Organization Name: 2016 FISU World University Championship Organizing Committee
Account Person Name: Chairman, Shinichi Sakata
Bank Name: Akita Bank, Ogata Branch
Bank Code: 0119
Branch # 183
Account # 1013630
Swift Code: AKITJPT
Address: 2-12 Chuo, Ogata-mura, Minami-Akita-gun, Akita 010-0443 Japan
Phone:+81-185-45-2871
9. Participation of extra-officials
Each country may enter a maximum of thirteen (13) persons: six (6) competitors and five (5) officials, with up to 2 alternates. If you have more than 13 persons in your team as officials, the fees for accommodation, meals, and transportation will be charged at the regular rate.
10. Official Entry
As notified previously, the deadline of the final entry was August 8th, 2016 (1 month prior to the event) using the FISU Online Accreditation System. If you have not done so, please make sure to complete the system entry as soon as possible including the attachments such as a copy of passport, head-shot photo, your certificate of academic qualification in addition to the details such as your personal information, participating events, and best scores. If you didn't get to upload the certificate of your academic qualification in the system properly before your arrival or if you have any doubts, please make sure to bring the original paper copy for the FISU accreditation process. Without the certificate, the skier will not be able to compete in the championship.
In addition, the attached "Skiers' Information" should be submitted before the championship or upon arrival. This form is for our chief announcer who will introduce skiers during the championship. If you are sending the form by email, please send it to: waterski2016akita@gmail.com.
11. Accreditation Process
Upon your delegations' arrival, your accreditation schedule will be notified individually. Based on the schedule, each member needs to go through accreditation process to obtain your ID in order to participate in this event. During the accreditation process, your information, which is already entered or uploaded in the system including your certificate of academic institution, your passport copy and your photo, will be verified at the accreditation's office. And also, your remained payment should be completed during the process. The accreditation office is located in the main hotel (Hotel Sun Rural Ogata).
12. Official Practice on site
The official practice at the official site will be held from September 6th -7th, at the cost of 40EUR/athlete. The times will be allotted equally per country and depending on the number of skiers and the events. The reservation will be required by email to waterski2016akita@gmail.com with the form this bulletin 2. The official practice schedule will be decided at the first come first serve basis. The final schedule will be announced on our official website http://wuc-waterski2016.com/ as soon as it is finalized.
13. Rules – General
The competition will be conducted according to the IWWF World Technical Rules for tournaments, slalom, tricks and jump, and will be managed under FISU regulations.
According to FISU regulations, "5.2 Participation 5.2.1, only the following may participate as competitors in a FISU World University Championship:
a) Students who are currently officially registered as proceeding towards a degree or diploma at a university or similar institute whose status is recognized by the appropriate national academic authority of their country;
b) Former students of the institutions mentioned in a) who have obtained their academic degree or diploma in the year preceding the event;
5.2.2 Notwithstanding Art.5.2.1, in countries with fewer than 2,000,000 inhabitants or fewer than 5,000 university students, students attending technical or secondary schools may participate in FISU Championships provided they have been attending their establishments for at least two (2) years.
Countries wishing to take advantage of the concession in the first paragraph of Art.5.2.2 must submit an application to the FISU Executive Committee at least six (6) months before the scheduled start of the event. Such an application must be supported by documents endorsed by the appropriate state or national or academic school authorities.
5.2.3 All competitors must satisfy the following conditions:
a) Be a national of the country they represent;
b) Be at least 17 and less than 28 years of age on January 1st in the year of the event.
14. Schedule of Events
Please note: One more official practice day was added as a result of the number of countries who registered during the first general entry. Now we accept teams to check-in from September 5th.
September 5

Monday

Arrival date for teams to practice on 6th, Accreditation

September 6

Tuesday

Arrival date for teams to practice on 7th, and for judges, Accreditation
Official Practice,

September 7

Wednesday

TBD
TBD
TBD
18:00pm

Official Practice

Team Captains Meeting by Chief Judge
Officials Meeting by Chief Judge
General Technical Meeting by FISU
Opening ceremony & Welcome Reception

September 8

Thursday

8:00am

Events follow non stop - just small breaks for refueling and changing the course.
Slalom men series 4
Slalom men series 3
Slalom men series 2
Slalom men series 1
Tricks women series 2
Tricks women series 1
Tricks men series 3
Tricks men series 2
Tricks men series 1

September 9

Friday

8:00am

Events follow non stop - just small breaks for refueling, course changes and ramp height changes
Slalom women series 2
Slalom women series 1
Jump men series 3
Jump men series 2
Jump men series 1
Jump women series 2
Jump women series 1

September 10

saturday

10:00am

Finals slalom women
Finals slalom men
Followed by medal presentation slalom
14.00
Finals tricks women
Finals tricks men
Followed by medal presentation tricks

September 11

sunday

10:00am


18:00pm

Finals jump women
Finals jump men
Followed by medals presentation jump
Closing ceremony and farewell reception at the official hotel
15. Ceremonies

The opening ceremony and welcome reception will be held on the night of September 7th starting from 18:00 at Hotel Sun Rural Ogata. All athletes will be expected to wear team uniform if they have it. The closing ceremony and farewell reception will be held on the night of September 11th starting from 18:00. The dress code for this ceremony and reception will be business casual.
16. Visas
The participants in the 2016 WUC coming from countries requiring VISA, must submit the invitation of the Organization Committee and/or a letter issued from their own Federation, stating they will take part in the Championships, to the Japanese Consulate of their Country. VISA must be obtained before departure from the country of residence in order to avoid any problems at the Japanese immigration or at any other transit border where a VISA is required. Please check your VISA requirement in order to enter Japan in the website below:
http://www.mofa.go.jp/about/emb_cons/mofaserv.html
17. Doping Control
In accordance with FISU regulations, a reasonable number of Athletes shall be tested in all sports in which it is required by regulations of the appropriate International Sports Federation. Out-of-Competition as well as Target Testing may be applied to Athletes participating at any time during the Event period. By entering this competition, all athletes agree to be subject to doping control. Information about the FISU anti-doping regulations, the current IWWF AD Rules and links to the list of banned substances can be found on the website below:
http://www.iwsf.com/AntiDoping/IWWF%20Anti-Doping%20Rules%20Current.pdf
18. Liability
Under the FISU regulations 5.8.3, "The participating countries must have the appropriate insurance to cover travel and participation, as they are not the responsibility of the Organizing Committee nor FISU".
The organizing committee do not accept any liability for damage to persons, materials or property against competitors, officials and other related persons. All competitors take part at their own risk in every respect even if they are engaged out of the competition in any additional program. With their entry in the competition, they give up any claim for instances of loss of any kind arising indirectly or directly during this event.
19. National Flags
All delegations are requested to bring two of their national flags to the championship. The size of two flags should be the same size and it should be close to 90cm x 150cm (3 feet x 5 feet)
20. Official Towboat
The Official Towboat of the Championships will be the 2016 Ski Nautique
21. Official Website
Please visit our official website http://wuc-waterski2016.com/ for more information
22. Contact Us
If you have any questions, please contact: waterski2016akita@gmail.com.